A Book for Calm Achievers
Wu Wei Comes Alive
Make Every Step a Winning Step
How to Achieve Your Goals Naturally Without Constantly Pushing Yourself, Even When You're Overwhelmed With Work Demands and Struggle to Gain Control.
Finding Balance and Success through Wu Wei
If you find yourself always pushing and striving to achieve your goals, or can't seem to find a balance between your work and personal life, here is a solution for you.
Learn wu wei, the art of not forcing. Learn the secret of the practice unfolds in the book Wu Wei Comes Alive – Make Every Step A Winning Step.
You'll be delighted to see how you can easily achieve your goals without constantly feeling overwhelmed.
Wu wei is an approach to excellence that has been around for more than two thousand years. It teaches us to go with the flow of nature to get things done without striving. Instead of forcing or over-exerting yourself, you follow the path of least resistance in a manner like water flowing downstream.
Through the 7-step approach in the book, you will be delighted to see how you can achieve success without sacrificing balance. No more burnout from work or neglect of health. No more sacrificing your relationships with loved ones just to achieve your goals.
Instead, live in flow and have a balanced approach to all areas of my life. Learn the way to navigate through challenges and enjoy a harmonious life effortlessly.
The Author
Written by Tekson Teo, a high achiever coach, and long-time wu wei practitioner, the book distills the profound ancient practice into simple steps. Ready to be thrilled by winning steps, beginning from the first chapters.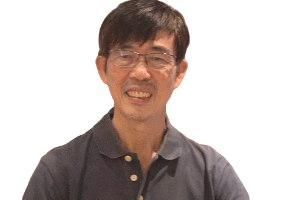 Hi, I'm Tekson Teo,
In everything we do, there is a natural thrust of flow. You feel it in the way you run, the way you speak or write an email. The more you can go with the flow, the better results will come.
Don't impede the flow, or you'll compromise the results by preventing nature from doing its best. Rather than intervening and imposing your will, find out what's occurring in the situation and flow with it.
In this way, you can ride the waves of nature to get things done. Nature is powerful, and it makes what you do powerful. You are easy and calm yet fully engaged; things happen as if with little effort on your part.
The best performers, be they in sports, the arts, or business, attest to it.
The more natural they are, the better their performance. Their performance goes downhill when they're too eager to win and become nervous. In everything you do, find the sweet spot for exerting effort.
This is what I talk about in Wu Wei Comes Alive.
To be natural, however, is not easy. I went through years of struggle without any breakthrough. Fortunately, I finally connected the dots.
A breakthrough took place only when I reunited with my Tai Chi Master. I was amazed to see how he optimizes every bit of energy under his disposal and can easily toss off an opponent half his age and twice his size. It was about going with the flow trajectory to multiply the thrust and prevail.
It's wu wei in action. When I saw how my master optimize the little energy that the is in control of, I knew I had found the answers I wanted.
THE PRACTICE NOW MAKES EVEN MORE SENSE when I related it to the thousands of people I had worked with. By applying the same principle to things you do, wu wei is no longer just a concept to me. The confounding paradoxes now work like charms, freeing me from the chains of the old ways.
Not only do you make every bit of energy count, but you also multiply it with leverage. You make a little bit of energy to become a lot. You accomplish more by letting it go.
It led me to develop the seven-step approach and the writing of Wu Wei Come Alive, Ed 2. I hope you'll like it.
In this book, I will share the philosophical principles, drawing from my experiences and observations of those who successfully applied them. Teaching wu wei poses unique challenges because it is an inner work that requires personal exploration and discovery.
Happy reading!
Wu Wei Comes Alive
Testimonials
What People are Saying
Although elusive, the book makes the powerful concept of Wu Wei comes alive and applicable in the daily context to enrich your life.